VISIT OUR HEALTH CARE PROFESSIONAL FOR A CHECKUP TODAY
Health Care for the Homeless is a Federally Qualified Health Center. We provide primary medical care, mental health services to individuals and families who are currently homeless. Services are provided to individuals experiencing homelessness or at risk of homelessness regardless of person's ability to pay. The financial situation and insurance coverage status does not impact person's eligibility to receive services at Healthcare for the Homeless. All services are provided on a sliding fee scale, based on household size and income. Patients should bring their ID and Medicaid, Medicare, or other insurance cards (if they have one).
SAME DAY APPOINTMENTS AVAILABLE. Please call for an appointment at 8:00 am on Mondays thru Thursdays. Appointments are filled on a first come first served basis.
IF YOU HAVE QUESTIONS, PLEASE CALL. OUR BUSINESS OFFICE HOURS ARE MONDAY – THURSDAY 8:00 AM – 5:00 PM AND FRIDAY 8:00 AM – 3:30 PM.
To make an appointment please call (307) 235-6116.
IF YOU ARE NEEDING MEDICAL ASSISTANCE DURING TIMES OUR CLINIC IS CLOSED, PLEASE CALL CLINIC AT(307)-235-6116. THE ANSWERING SERVICE WILL GET YOU IN TOUCH WITH THE PHYSICIAN ON CALL.
SI NECESITA ASISTENCIA MÉDICA DURANTE EL TIEMPO QUE NUESTRA CLÍNICA ESTÁ CERRADA, LLAME A LA CLÍNICA AL (307)235-6116. EL SERVICIO DE RESPUESTA LO PONDRÁ EN CONTACTO CON EL MÉDICO DE CITA.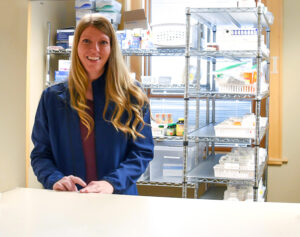 Health Care for the Homeless medication dispensary proudly dispenses medications at reduced costs for our patients. We are a small dispensary, with only one pharmacist and technician, but work hard to fill all of our patients' needs.
Our medication dispensary does not fill prescriptions from other providers. We do not prescribe narcotic medications for any reason. Medications cost $2.00 each; we will still provide medications when you cannot afford the co-pay, but the charges will be placed on your account.
Have any questions on medications? Give us a call at (307) 337-1218. If we are not able to answer, we will get back to you within 24 business hours.